Workflow diagram
What is a Workflow diagram
Workflow diagram usually denotes movement of documents, resources, and data throughout the entire work process for a specific product or service. Work processes can be very complicated, so visual representation of how the task should be completed can help employees better understand the process and work more efficiently. Workflow diagrams show persons responsible for every sub-process, necessary documents, resources, data and amount of time requires at each stage.
Why use Workflow diagrams
Workflow diagram is important to understand the complete work process as it helps you to:
Understand your own responsibilities;
Understand role of other employees;
Analyze the entire process and define problem areas and bottlenecks;
Identify critical stages;
Improve communication as diagram shows relationships between different stages in a process;
Explore the complete list of required documents and resources.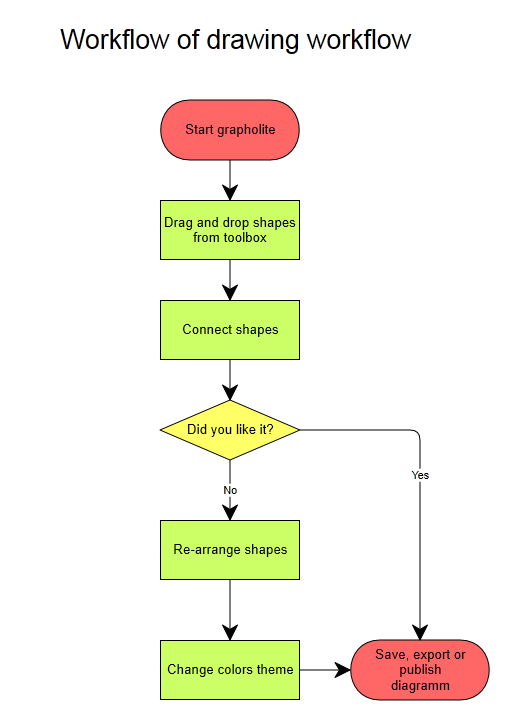 How Grapholite can help
As mentioned above, workflow diagrams can be very complex and complicated, so people may think that they need specialized deep programming knowledge and skills. Or instead they may use special workflow software that will help them document even the most complex business processes. Grapholite offers user-friendly interface, a library of pre-designed workflow shapes and styles, and intuitive tools to assist you in creating professional and attractive work flow diagrams.
Grapholite also provides the following features:
Smart drawing tools and automatic connectors to create work flow charts;
Export to the most commonly used picture and document formats;
Ability to share and collaborate on the workflow diagram.
Workflow diagram shapes
Workflow diagrams use specific shapes to denote particular business process stage and performed activities. Basic shapes are:
Oval: Terminator denoting start and end points of the process;
Rectangle: Indicates generic process step;
Diamond: Denotes decision-making stage resulting in two workflow directions reflecting a yes or no decision;
Circle: Connector showing a jump from one point in the process flow to another;
Arrow: Indicates relations between the steps.
See also:
General information about Flowcharts.
Describing complicated processes with multiple participants using Swimlanes.
How to Draw a Basic Workflow Diagram
The following video shows how to create a Workflow-like Diagrams in Grapholite. To watch a slower version, check out the link.