Swimlanes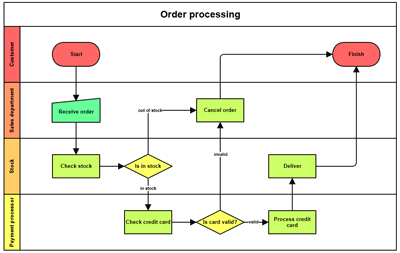 What is a swimlane
Swimlane, also known as cross-functional flow-charts, is one of the most popular ways to describe complicated processes with multiple participants. This is a visual element used in flow chart diagrams that shows participants responsibilities for a certain part of the process. Swim lanes are used to group sub-processes or tasks according to obligations of certain resources, roles or departments. It's very convenient when algorithm of the process execution is divided into lanes each of which contains actions made by one of the employees.
Why use swim lanes
Swimlane visualizes actions performed by special resource types, organization elements or actions connected to a special location. Besides, Swim lanes make it possible to specify role of an executor and in this way to document responsibilities in a more accurate manner.
Cross functional flow charts allow you to see not only flow of some process but also moments when responsibilities are transmitted from one process participant to another. It helps eliminate loss of information, delays, mistakes or cheating are most likely to occur.
How Grapholite can help
Grapholite allows you to easier create a swimlane by offering the following abilities:
special swimlane element;
smart drawing tools, automatic connectors and shape library to create a swimlane flow charts of processes, algorithms and procedures;
export to the most commonly used picture and document formats.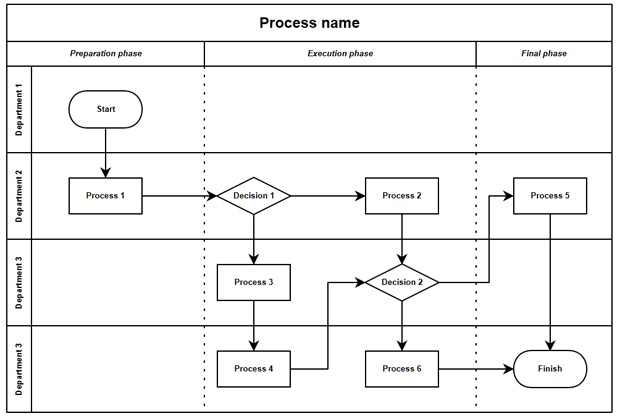 Swimlane techniques
In order to optimize the process with the help of a swimlane diagram it is necessary to minimize the amount of the process transmission between the participants. Ideally, every person or resource should partake in the process only once for all its duration.
So, in order to create an efficient swimlane you need to:
Determine the lanes. Think over how to divide the process into groups to be represented by swim lanes. Draw vertical or horizontal lines, equally spaced on the page, to create the swim lanes;
Start your diagram. Set the start point of the process. Insert a rounded rectangle on the top of a swim lane to visualize start point and name it;
Add a connection. Draw a short arrow if the next action is in the same swim lane. Draw a long arrow if the next action is in the other swim lane;
Add a process. Draw a rectangle and write a brief description inside. Proceed in this manner. Review an article about flowcharts to examine available shapes and their designation;
Add connections. Connect each box with a link to indicate the flow;
Verify accuracy. Consult with the colleagues to verify accuracy.