Web site maps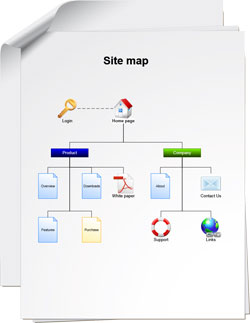 What is a site map
A site map is a visual hierarchical model of a web site content that helps users navigate throughout the site and quickly find necessary information. Usually, site maps arrange pages by topic and break down the information contained on the site into increasingly specific subject areas. The lower a web page is located on the site map, the more specific it is.
Why use site maps
Site maps are helpful at different steps of the web site life cycle: from development to online functioning. It is just necessary to create a site map before starting the development to clearly understand how information should be posted on the site to be quickly found by the visitors. They are also helpful on presentations. Use a site map to analyze your site's organization and to classify its content. A site map of the functioning web site serves two purposes: streamline work with the site for users and improve site index in various search engines.
You can also use site map diagram to reorganize an existing site.
Grapholite can help
Grapholite allows you to easily create a site map by offering the following abilities:
smart drawing tools, automatic connectors and shape library;
a rich set of additional graphic elements from another stencils to make your site map more illustrative;
export to the most commonly used picture and document formats.