Office Plan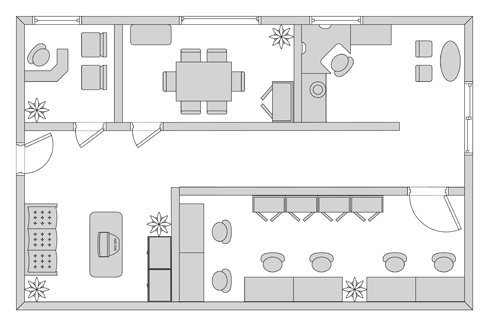 What is office plan?
Office plan is a type of floor plan that shows top view of the office space with physical layout of walls, windows, doors, furniture, appliances and more.
Why design office plan?
People spend third of their lives in the office. So, this is very important to plan office space properly so that all employees feel comfortable and work more efficiently. There are lots of office rooms that should be layout appropriately: reception, waiting area, conference and workshop rooms, call center, archives, secretarial office, separate personal offices or open space.
Office types
There are two main types of office: cellular and open space. Combinations are also possible.
Cellular office represents office with single and multi-person rooms and a common corridor providing access to these small offices. Such offices are extremely well-suited for organizations that want employees to work autonomously, in deep concentration.
Advantages of a cellular office:
Privacy and personalization;
No unnecessary distractions;
Improved concentration level;
Additional storage spaces.
Disadvantages of a cellular office:
Lack of regular communication;
Stagnation of employee creativity;
Feeling of isolation between employees.
Cellular office is a good fit for professions that require high level of privacy and concentration. They suit for professions that don't need much personal communication and interactions with colleagues and customers.
Open space office represents office layout without any barrier between the employees. Such offices contribute to high level of communication and quality of interaction. Space in such layouts is arranged more efficiently with compacted workplace areas. There are more opportunities for observing and getting knowledge from more experienced and skilled colleagues.
Advantages of open spaces:
High level of collaboration and team spirit;
Increased employees creativity;
Efficient use of space;
Reduced time for inter-employees communication.
Disadvantages of open spaces:
Lack of privacy;
Lack of concentration due to distraction;
No storage spaces for employees.
Open space offices are suitable for those professions that require maximum interaction. Open space needs to be well thought-over, you need to analyze and design different areas: posts, islands, technical, common space and the open and closed roads. Proper organization of space contributes to cooperation and emphasizes individuality.
Combination office represents a combination of a cellular (personal) and open space (multi-person) layouts. Cellular area is designated for focused work while shared area is used for meetings, exchange and interaction. It is possible to quickly switch between individual work that requires high level of concentration and team work requiring intercommunication.
Advantages of a combination office:
Focused work;
Communication in the shared zone;
Transparency;
Frequent shifts between individual work and project or team work.
How Grapholite can help?
Grapholite allows you to easier create office layouts by offering the following abilities:
ready-made symbols for office layout;
smart drawing tools;
export to the most commonly used picture and document formats.
Office modules and areas
All offices despite of its type have common areas and modules, for example, reception, waiting area, conference room, meeting room, etc. Below you will find brief descriptions of these areas that will give you an idea on how to arrange office space in the most efficient manner.
Reception
Reception is the first place all visitors see about the organization and its culture. This area should be properly organized to give the possibility of cooperation with different departments and even other organizations to quickly get reliable information. Professional design including company symbols, details, culture and processes demonstrates respect towards the customer.
Waiting area
Waiting area is a zone where visitors can wait for an appointed meeting; it usually takes not much time, but nevertheless visitors should feel comfortable. This is also a good opportunity to create the first impression of the organization and to show corporate identity. Waiting area usually offers comfortable chairs or sofas and a little table for business magazines or company brochures.
Call center
Call center space is planned as an open space area with work places separated by dividers (sometimes they are transparent). Call center employees should be able to get quick access to information infrastructure (computer and telephone), transportation routes, etc.
Archiving
Archiving of information is very important and this work area should be properly organized. It should consider media the data is recorder on, number of copies, duration of storage, access level for different employees, prevention of unauthorized access.
Conference room
Conference room designation is various kinds of meetings: job interviews, training, presentations, negotiations, workshops, etc. It usually includes a big table in the center of the room, comfortable chairs, projection device, screen or TV, etc.
These are basic office areas that need to be well thought over and properly organized to make the office space convenient and contributing to efficient work.
How to create office floor plan
The easiest way to draw office floor plan is to use special software such as Grapholite. It offers pre-designed symbols for office layout such as wall, window, door, office accessories, office equipment, furniture that can be easily adapted to your office plan. You can drag and drop those symbols to whenever you need them, move them to make slight corrections and to completely re-arrange them, if necessary.