Home plan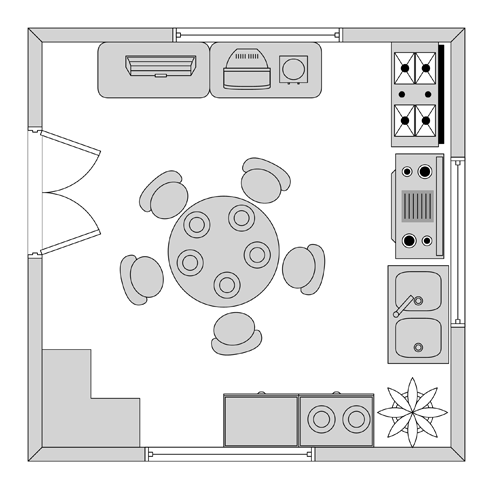 What is a home plan
A home plan is a part of a house plan that represents floor plans for all house spaces and rooms. It takes into account location of the rooms, areas, their dimensions, doorways, kitchen and sanitary appliances at all levels of the home.
Why use home plans
Home plans are used by professional architects and designers to efficiently organize house space on the stage of projecting a new house. Home buyers need home plans to estimate and understand if the house suits family needs and lifestyle. Homeowners use home plans when some changes or re-designs should be done to the house: adding a room, re-arrangement of space (joining kitchen and dining room), or changing room purpose (re-arranging a bedroom to a home office).
How Grapholite can help
Hiring a professional designer is a good idea, but is quite expensive. Professional house plan software (various CAD systems) is expensive as well and, besides, requires special knowledge and skills. Grapholite is easy-to-use yet powerful home plan software that allows quick creation of home floor plans. It offers the following abilities:
ready-made symbols for home layout including walls, doors, windows, furniture and appliances, etc.;
smart drawing tools;
ability to share the drawing for collaboration and discussions;
export to the most commonly used picture and document formats.
Home plan rooms and spaces
The right home plan is crucial. First of all it is necessary to define the following options: number of levels, livable space, number of bedrooms, baths, types of gathering spaces, some future needs (such as additional bedrooms for children expected to appear).
Here are some of the basic home plan elements you need to ponder to make wise decisions.
Kitchen
A kitchen is used for cooking and food preparation. It can be the whole room or part of the room. The kitchen plan usually includes a sink, a stove, a refrigerator, serving table, cabinets arranged in a modular design, TV, microwave, baking oven, cooktop, dishwasher and other electric appliances. Kitchen can also be used to dine, store food, entertain or launder.
It's also necessary to think if the kitchen will be open to other rooms or if you need the secondary entry there.
Dining room
A dining room is a room used for consuming food. It contains a large table with chairs arranged along the whole table. Dining room also includes storage area with cabinets to store dishes, napkins, tablecloths, etc. This room is usually used for formal dining with guests on holidays and special occasions. Informal meals are usually taken at breakfast nooks or special space in the kitchen.
Living room
A living room is a room for relaxing and socializing. You need to define how many people you wish to seat comfortably and if you want this room for informal active entertainment. Today's living rooms combine functions of other rooms such as a den, family room, or recreation room. It usually contains such furniture as sofa, chairs, fireplace, tables, storage appliances such as bookshelves, lamps, carpets, etc.
Bedroom
A bedroom is used to sleep in the night or relax during the day. So, the main accessory in this room is a bed (double, king or queen-sized). Other furnishings used in a bedroom are a wardrobe or a closet used to store clothes. Clothes can be also kept in a dresser. Nightstands and a desk are often used in a bedroom. It can optionally contain a chair for reading, fireplace, and TV. A bathroom may be connected to the bedroom.
Bathroom
A bathroom is a room used for personal hygiene. It usually includes a bath. There may also be a shower, a toilet, a bidet and a sink. Toilet may be a private area. A bathroom should have a storage space for cosmetics, hair appliances and towels. Mirror area should have proper lightning for shaving, grooming, and probably, make up.
Office
A home office is a room used for business purposes: meeting with clients, presentations, autonomous work. Home offices need phone, fax, Internet connection, computer, printer, scanner, etc. A table, chairs and a sofa are usually included. For presentations you will need a projection device and a screen. This room can be double-purposed: you can use a projector and a screen for multimedia entertainments such as watching movies. Add good surround sound and you will get a great home cinema. The office can also be used as a guest room.
These are basic features that are included in the home plan. You need to arrange them efficiently considering your desires, lifestyle, and priorities for your living space.
How to create a home plan
The easiest way to draw home floor plan is to use special software such as Grapholite. It's not that complicated as professional CAD systems, yet powerful enough to create a professional floor plan. It offers pre-designed symbols for home layout such as wall, window, door, home accessories, appliances and furniture that can be easily adapted to your home plan. You can drag and drop those symbols to whenever you need them, move them to make slight corrections and to completely re-arrange them, if necessary.